Standing on the slopes of Mt. Tronador, at 6150 feet above sea level, amongst glaciers Alerce and Castaño Overa, the refuge offers services between October and May, with opening and closing dates which vary each year depending on meteorology and terrain conditions. It is important to get informed about this in advance.
Shuttle
We provide transportation to Pampa Linda which is at the base of Mt. Tronador, the start for all the trekking trails of this towering mountain and its surroundings. This round trip service is offered daily during spring and summer. The go starts early in the morning from downtown Bariloche and takes about two hours. The return from Pampa Linda takes place in the afternoon.

WhatsApp contact
​

Email contact
Excursions
The refuge is an unsurpassable starting point to venture across the glaciers of Mt. Tronador, unique in Northern Patagonia for their large size and accessibility. Due to the diversity of the visiting public and according to its expectations, we offer different experiences for every level. This implies the use of specialized techniques and the provided gear, thus making it essential to have the escort of professional mountain guides, certified by the Argentine Mountain Guides Association and enabled by the Nahuel Huapi National Park. They are the ones with the knowledge and the expertise to guarantee a safe and highly educative experience.
To access our excursions we recommend booking in advance.
CLICK HERE to see all excursions
Gastronomy
For breakfast and afternoon snack we offer a combo including a hot beverage to choose from several infusions, coffee, black or with milk, hot chocolate, homemade toasts with butter, fruit jam and caramel, homemade yogurt, cereals and natural squeezed orange juice. Regular serving time for breakfast is from 8 am.
For meals we offer options of dishes, always accompanied with our homemade bread. Some of these are more sophisticated and others simpler, but all of them are excellent quality elaborated products. So you can choose from pasta with different sauces, such as tomato, Bolognese or pesto, goulash with rise, spinach cannelloni, baked meat with mashed potatoes, beef stew with pasta, tenderloin medallion with vegetables grilled in olive oil and mushroom sauce, vegetarian options and coeliac suitable options. Regular serving time for dinner is at 9 pm.
There are also daily made desserts, takeaways, kiosk products, hot water for ¨mate¨ and a broad variety of beverages. Meals cannot be booked in advance. They are asked for upon arrival and registration.
Each visitor can also choose to purchase the Kitchen Use (per person) to prepare their own meals, which includes the use of the stoves, all sort of cookware, tableware and dishwashing by the refuge´s staff.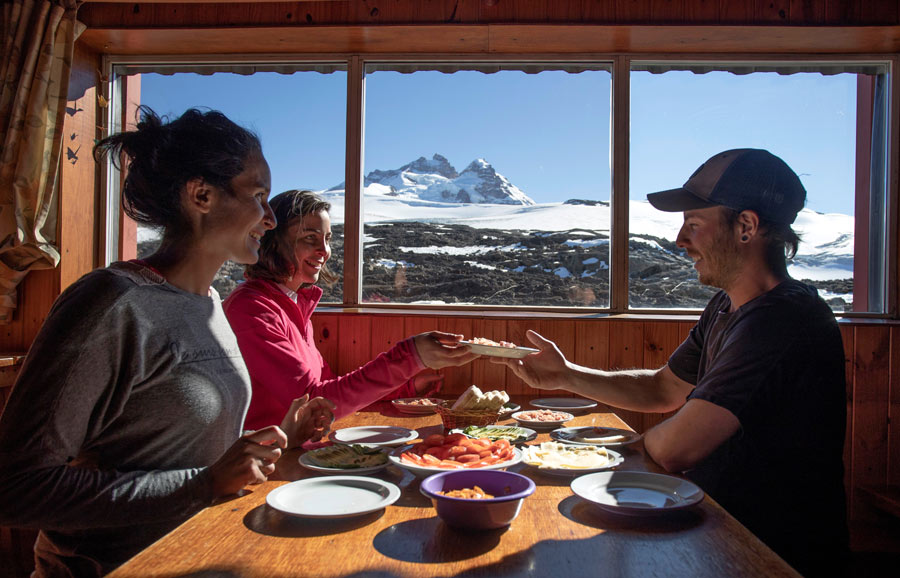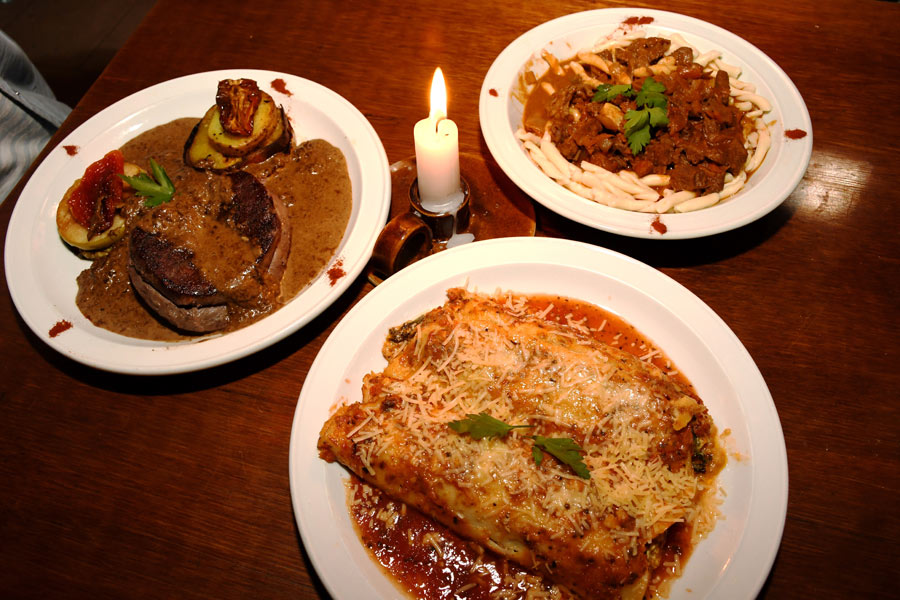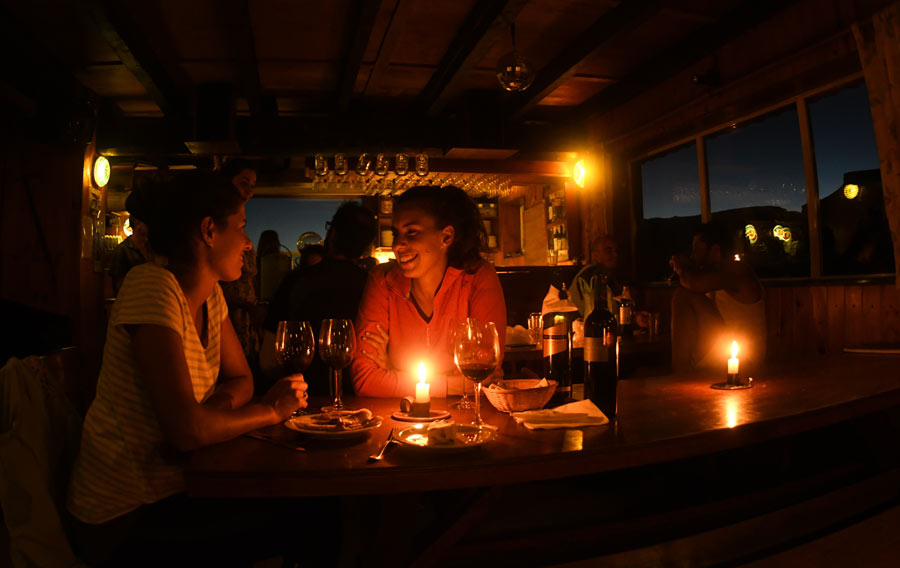 Lodging
The sleeping room is a common use single space with an approximated capacity of 60 people. When purchasing the overnight lodging at the refuge you are provided with a mattress, which could be shared depending on the amount of visitors. There is no need to bring a sleeping mat. If you decide to go without sleeping bag you can rent one at the refuge. Except in the case of special events, we try to attenuate the sound level at the lounge after 10:30 pm.
No bookings are made for the lodging because the mountain refuge format implies that everyone requiring accommodation gets a place, and that the space at the sleeping room is equitably distributed. Peak season is during January and February.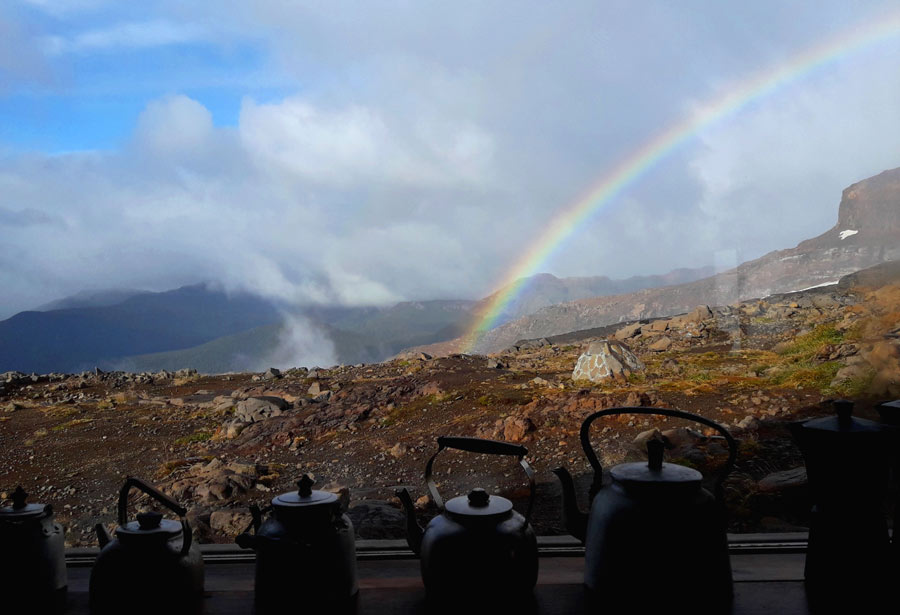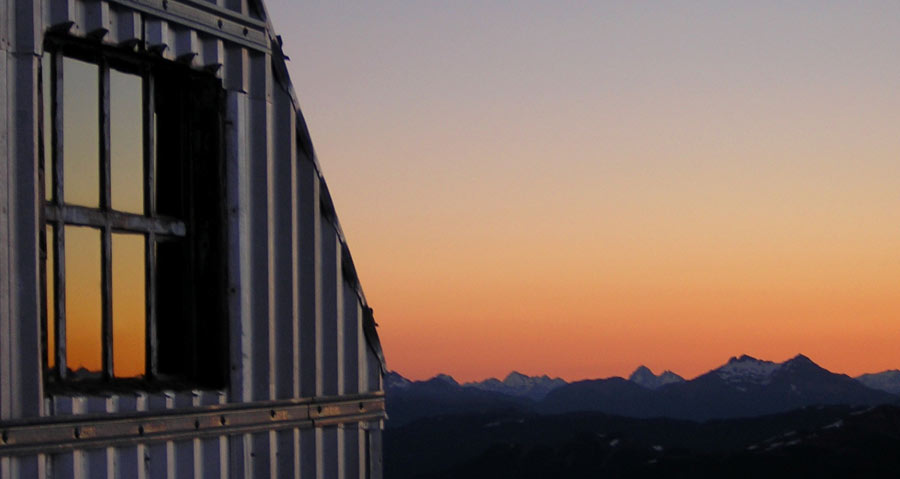 Camping
If you are going to use the camping area next to the refuge have in mind that it lays at a high mountain environment where the weather conditions can be much more severe than inside the valleys, even during the summer. Watch a weather forecast for the exact place and altitude (6200 feet), for wind, precipitation and temperature, and ask if the camping area is covered with snow before you go for it. Your tent should be of suitable design and quality, and must have ropes for attachment since it could be impossible to use stakes due to the soils hardness. It is also necessary to count with enough warm clothes and ground insulation, especially if you are camping on snow. You will be asked to always use the hut´s toilet and to wash your dishes inside the kitchen.
Resources and rules
During the season there is thaw water supply, electricity (220 volt) and toilet with no shower.
There is a limited number of common use indoor shoes, blankets and thermos.
There is no phone or internet signal.
The use of portable stoves is not allowed inside the building.
There is no technical mountain gear rental.